Instrumentation:
2222-2210-Timp+1, pno, hp, str (standard woodwind doubling applies)
Live Audio Recording
Kalamazoo Junior Symphony
Andrew Koehler, conductor
Mitchell Newman, violin
February 19, 2023
Available to Commission Consortium Members
for the 2022-2023 and 2023-2024 seasons
Read all about the Paths To Dignity Project:
Empowering the Unsheltered through Arts and Advocacy
It is in times of crisis that the Arts are found on the front line towards restoring humanity and dignity.


~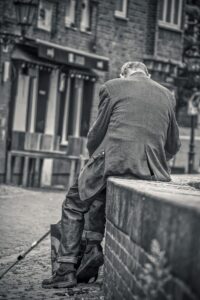 Homelessness in today's society has reached a peak unparalleled in history. Even prior to the devastating long-term economic effects from the global pandemic, seventeen out of every 10,000 people in the United States were experiencing homelessness on a single night in January 2019 according to the U.S. Department of Housing and Urban Development (HUD). Those in the arts community have not been shielded from the financial downturn of the past year. Consequently, the solvency of artists and arts organizations across the nation is in extreme peril. However, it is in times of crisis that the Arts that are always found on the front line towards bringing back humanity and dignity because it is creativity that lies at the core of what it means to be human.
It is with this in mind that discussions began between violinist
Mitchell Newman
and composer
Lucas Richman
for the creation of a new work for violin and orchestra which addresses the connections between homelessness and mental health, as well as the role the arts can play in restoring humanity and dignity to the ever-growing population of displaced citizens.
With the intent of serving as a catalyst for meaningful discussion and subsequent action, "
Concerto for Violin: Paths to Dignity
," has been written for Mitchell Newman, who has served as the violinist for the world premiere of the work and lead community engagement activities related to the piece. Musical organizations participating as members of the commission consortium will present performances of the concerto during the 2022-2023 and 2023-2024 seasons and will receive guidance for developing partnerships with their local homeless advocacy organizations.
~
Concerto for Violin: Paths to Dignity
Our Stories  (a collage of personalities and street sounds)
Fever Dreams/Move  (addressing the plight of veterans and their families)
Shelter For My Child  (restoring self-worth through grace and kindness)
Finding Home  (examining the barriers to re-entry into society)
Commission Consortium Fee: $2000
Consortium members will be acknowledged in all published scores of "Paths to Dignity."  Fees are inclusive of the use of scores and parts for all local premiere performances (soloist fees not included).
To become a Consortium member, please contact us at music@ledorgroup.com
For more information about the Paths To Dignity Project, go to www.PathsToDignity.com
Mitchell Newman, violin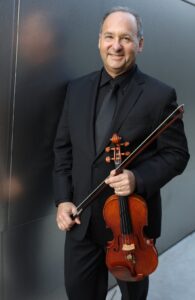 Violinist Mitchell Newman recently retired from the Los Angeles Philharmonic in 2020 after a 34-year career with the orchestra. In addition to his own rigorous performing and recording schedule, Mr. Newman has been a passionate advocate for bringing music to underserved communities. In honor of his work as founder of "Harmony: Music for Mental Health", a chamber music/fundraising concert for Mental Health America Long Beach, CA, the California State Senate named him a mental health hero in 2010. In 2015 he started "Coming Home to Music" which brings concerts of classical chamber music and jazz concerts to people who were experiencing homelessness, now living in apartment complexes built by People Assisting the Homeless (PATH). Through his close friendship with MacArthur Grant Awardee and Street Symphony founder Vijay Gupta, Mr. Newman has played many concerts for people living in Los Angeles' Skid Row and those in incarcerated communities. Mr. Newman has taught at Los Angeles's renowned Colburn School and now brings his expertise to the classes he teaches for violinists at Philadelphia's Curtis Institute of Music, as well as working for Play On Philly and the Settlement Music School.
List of Concerti by Lucas Richman
Complete List of Lucas Richman's compositions