Castin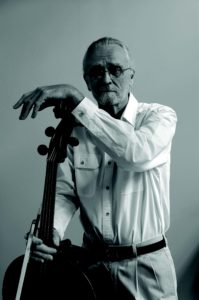 g the cello in the role of a viable unaccompanied instrument is by no means innovative, with the best known examples being the Six Suites of J.S. Bach dating from 1724. Since that time, many composers have added to the repertoire. Just as Bach in the past, composers have and will continue to accommodate the limitations and idiosyncrasies of the instrument.
The cello is most at home delivering a single melodic line of music; however, for composer and cellist alike, challenges arise when extensive harmonic elements and counterpoint are introduced. Though some passages herein push the inherent boundaries of the instrument, the pieces on this recording rise admirably to the task of providing a unique and complete musical experience, while allowing the cello to speak in its vernacular.
I offer my sincerest gratitude to Robert Cronin, Mark Harrell and Lucas Richman for composing these works for me. It has been my honor and privilege to collaborate with these gentlemen for many years. Each is a composer of great skill: each with something to say… something worth hearing.
D. Scot Williams, 2017
Knoxville, Tennessee
~ Solo Cello ~
Prelude for D (2014)
Robert Cronin
Stream of Consciousness (1988)
Lucas Richman
Capricio #1 (2009)
D. Scot Williams
Sonata for Solo Cello – Introduction and Saltarello (2016)
W. Mark Harrell
Sonata for Solo Cello – Aria (2016)
W. Mark Harrell
Adoration (2017)
Lucas Richman
Sonata for Unaccompanied Cello – Elegia (1996)
Robert Cronin
Capriccio #3 (2013)
D. Scot Williams