Instrument / Voice:
Piano
Lucas Richman, composer
Vijay Venkatesh, piano
Track List:
1. Reindeer Variations (10:57)
2. Umbrellaphant Variations (25:08)
3. Variations for Giora (6:58)
4. Music Can Make Your Life Complete Variations (4:15)
5. Variations at the Barre (5:01)
6. Zapped Taps (5:10)
REVIEW:
RICHMAN Variations.  • Vijay Venkatesh (pn) • ALBANY 1908 (57:24)
by Colin Clarke
(This article appeared in Issue 46:4 (Mar/Apr 2023) of Fanfare Magazine)
There is a sort of satisfyingly symmetrical aspect to these pieces, in that although many of them are piano arrangements of orchestral or chamber works, the sketches for the originals were worked upon by the composer at a piano. This instrument is of central importance to Lucas Richman (who as a conductor has been Bangor Symphony's music director since 2010 and who was the Knoxville Symphony's music director 2003–15). As a composer, his music has been widely performed in the United States.
In the Reindeer Variations, it is a rather nice touch that each of Santa's reindeers gets its own variation. The theme comes from Richman's one-act musical A Christmas Wish, in which a young girl is inducted into the true meaning of Christmas via a special wish granted by Mr. Claus himself. The music is delightful, the melody expansive and seasonal. It might have been nice to have individual tracks for the variations, but nevertheless these are seven nicely contrasted variations (Donner and Blitzen obviously share one variation). Pianist Vijay Venkatesh brings out the joy in this music, particularly, it strikes me, relishing the jazz aspects of the piece, including a walking bass introduced by vocalized imitations of a hi-hat cymbal. The ending is hilarious. After hearing that, it is amazing to think that neither Richman in his composition mode, nor Venkatesh, have made it to the Fanfare Archive before this.
A work for narrator and orchestra based on Jack Prelutsky's Behold the Bold Umbrellaphant, Richman created a piano version shorn of narration, although movement titles remain. The piece opens in a blaze of pianistic light, almost music for a circus big top. Richman introduces some spicy dissonances that take it into his own world, though. Technically, there are many challenges here, and Venkatesh has no detectable problems with any of them. Venkatesh's sense of rhythm, so important in this music, is also highly developed. Richman clearly has a rich sense of humor, something difficult to bring off in the clinical environment of a recording studio, and yet that is exactly what Venkatesh does here. Helter-skelter two-part passages are delightful, and brilliantly executed by the present pianist. At some 25 minutes, this is the longest piece on the disc, and its emotional span is nicely varied, plus the material is more than interesting enough to maintain the attention. Venkatesh's performance is replete with lightning reflexes, but he also knows how to sit on the knife-edge of expression and Schmaltz without tipping over, and that is no mean achievement. I also find Richman a fine tunesmith, which adds immeasurably to the pleasure afforded here. The occasional gesture points to Schumann the miniaturist as an influence.
The remaining pieces are much shorter. Taking his musical basis from the surname of klezmer clarinetist Giora Feidman, the Variations for Gloria, originally for clarinet and piano, begins in a very different fashion, altogether more serious. The various variations are intended to reflect different aspects of the dedicatee's character (a nicely Elgarian touch!). There is a real sense of nostalgia here, too. Venkatesh projects melodies perfectly; his pedaling is carefully judged as well.
The next piece is a set of variations, although not explicitly labelled as such. The song Music Can Make Your Life Complete was commissioned as the theme song for the Pittsburgh Symphony's educational mascot, Fiddlesticks. It is melodious and fun, but these variations take us into a definite virtuoso space, a sort of Liszt for today. Venkatesh is once more superb.
Originally written for educational concerts with orchestra, Variations at the Barre teaches young people about the language of the ballet. Each variation is fashioned to support a particular step (plié, pirouette, jeté and so on). It is the crispness of Venkatesh's performance that appeals. Finally, Zapped Taps is another symphonic piece written with dance in mind, in particular Alfred Desio's electronic tap-dancing system, TapTronics. There is even some recorded tap dancing included in the piece (though no indication of who did this).
All these works receive their world premiere recordings here. The sound is excellent, allowing appreciation of Venkatesh's myriad gradations of tone. Lucas Richman's music is richly varied, skillful, and fun; but really I want to hear more of Venkatesh's sterling pianism. His excellent website promises an all-Mozart disc on Naxos, which I for one will be keeping an eye out for.
Composer's Notes:
The piano has always brought me comfort as a source of solace and as a tool of inspiration. Since the age of five, it has been an integral centerpiece of my home, family life, work and social life. While much of my catalog as a composer involves collaborations between two or more musicians, writing specifically for the piano as a solo instrument can be a daunting task. Solo piano music, in being a creative extension of the composer as an individual, inherently lays bare one's most intimate thoughts, emotions and expressions for the whole world to see and hear.
Several of the pieces presented here are piano adaptations of orchestral or chamber works, but each work shares the common genesis point of having evolved from sketches made originally at the piano. The other common thread between the works featured in Lucas Richman: Variations is that each piece has been conceived as a set of variations based upon original themes or motives.
I am especially grateful to Vijay Venkatesh for investing himself into this commanding performance of my music as well as for highlighting a huge palette of colors and nuances only brought to the fore through his brilliant artistry. Special remarks of gratitude also go to Fabio Bidini and Nick Gianopoulos without whom this album would not have been possible.
~ Lucas Richman, 2022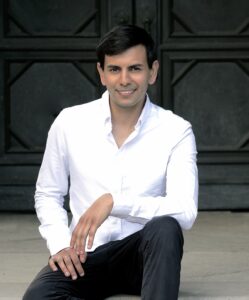 Vijay Venkatesh 
Hailed by the Herald-Tribune for his "dazzling pianism verging on the impossible, effortless technical command and authority with a sense of poetry and refinement that belies his years," Indian-American pianist Vijay Venkatesh has been recognized on three continents as a pianist with profound musicianship, sparkling pianism and an innate sense of partnership. Vijay has rapidly established a major international reputation as top prizewinner in the San Jose, Seattle, Zimmerli, World Piano, and Waring International Piano Competitions. He has also been named a Davidson Fellow Laureate at the Library of Congress, USC Thornton's Discovery Scholar, Grand Prize Winner of the Los Angeles Music Center's Spotlight Awards and featured on "What Makes It Great?" with host Robert Kapilow and NPR's "From the Top."
An immersive and versatile soloist, Mr. Venkatesh has performed extensively in North America and Europe as soloist with the symphony orchestras of Seattle, Vienna, Sarasota, Pasadena, Cincinnati Chamber, Columbus, and the Brevard Music Center, to name a few. He has collaborated with preeminent conductors such as Carlos Miguel Prieto, Jeffrey Kahane, Ludovic Morlot, Eckart Preu, Roger Kalia, and more. Mr. Venkatesh appeared in recent seasons at Segerstrom Concert Hall with the Colburn Orchestra, Chicago's Dame Myra Hess series, and at the Aspen, Brevard, Banff, Newport, Redlands Bowl, Sarasota, and Vienna Music Festivals. As recipient of the inaugural Parnassus Society Prize, he performed in recital at the Soka Performing Arts Center.
An active chamber musician, Venkatesh has appeared ten times on Le Salon de Musiques at the Dorothy Chandler Pavilion and tours as the Vieness Piano Duo with his wife and pianist, Eva Schaumkell.
Originally from California, Mr. Venkatesh holds degrees from the Colburn School, USC Thornton and IU Jacobs having studied with Fabio Bidini, Norman Krieger, Jeffrey Kahane, André Watts, Sarkis Baltaian, Menahem Pressler and Murray Perahia.