Instrument / Voice:
Piano
Lucas Richman, composer
Vijay Venkatesh, piano
Track List:
1. Reindeer Variations (10:57)
2. Umbrellaphant Variations (25:08)
3. Variations for Giora (6:58)
4. Music Can Make Your Life Complete (4:10)
5. Variations at the Barre (5:01)
6. Zapped Taps (5:10)
Composer's Notes:
The piano has always brought me comfort as a source of solace and as a tool of inspiration. Since the age of five, it has been an integral centerpiece of my home, family life, work and social life. While much of my catalog as a composer involves collaborations between two or more musicians, writing specifically for the piano as a solo instrument can be a daunting task. Solo piano music, in being a creative extension of the composer as an individual, inherently lays bare one's most intimate thoughts, emotions and expressions for the whole world to see and hear.
Several of the pieces presented here are piano adaptations of orchestral or chamber works, but each work shares the common genesis point of having evolved from sketches made originally at the piano. The other common thread between the works featured in Lucas Richman: Variations is that each piece has been conceived as a set of variations based upon original themes or motives.
I am especially grateful to Vijay Venkatesh for investing himself into this commanding performance of my music as well as for highlighting a huge palette of colors and nuances only brought to the fore through his brilliant artistry. Special remarks of gratitude also go to Fabio Bidini and Nick Gianopoulos without whom this album would not have been possible.
~ Lucas Richman, 2022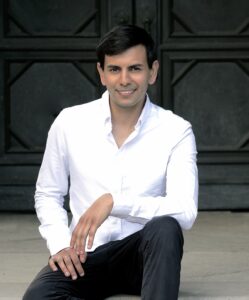 Vijay Venkatesh 
Hailed by the Herald-Tribune for his "dazzling pianism verging on the impossible, effortless technical command and authority with a sense of poetry and refinement that belies his years," Indian-American pianist Vijay Venkatesh has been recognized on three continents as a pianist with profound musicianship, sparkling pianism and an innate sense of partnership. Vijay has rapidly established a major international reputation as top prizewinner in the San Jose, Seattle, Zimmerli, World Piano, and Waring International Piano Competitions. He has also been named a Davidson Fellow Laureate at the Library of Congress, USC Thornton's Discovery Scholar, Grand Prize Winner of the Los Angeles Music Center's Spotlight Awards and featured on "What Makes It Great?" with host Robert Kapilow and NPR's "From the Top."
An immersive and versatile soloist, Mr. Venkatesh has performed extensively in North America and Europe as soloist with the symphony orchestras of Seattle, Vienna, Sarasota, Pasadena, Cincinnati Chamber, Columbus, and the Brevard Music Center, to name a few. He has collaborated with preeminent conductors such as Carlos Miguel Prieto, Jeffrey Kahane, Ludovic Morlot, Eckart Preu, Roger Kalia, and more. Mr. Venkatesh appeared in recent seasons at Segerstrom Concert Hall with the Colburn Orchestra, Chicago's Dame Myra Hess series, and at the Aspen, Brevard, Banff, Newport, Redlands Bowl, Sarasota, and Vienna Music Festivals. As recipient of the inaugural Parnassus Society Prize, he performed in recital at the Soka Performing Arts Center.
An active chamber musician, Venkatesh has appeared ten times on Le Salon de Musiques at the Dorothy Chandler Pavilion and tours as the Vieness Piano Duo with his wife and pianist, Eva Schaumkell.
Originally from California, Mr. Venkatesh holds degrees from the Colburn School, USC Thornton and IU Jacobs having studied with Fabio Bidini, Norman Krieger, Jeffrey Kahane, André Watts, Sarkis Baltaian, Menahem Pressler and Murray Perahia.