By Marcia Caller Jaffee
Published July 14, 2021 –  Atlanta Jewish Times
Mario Foah shares his zest for life and love for music, culminating in his own three-part customized concerto:
Buckhead resident Mario Foah turned 100 in March followed by the extraordinary experience of having his talented son and daughter-in-law arrange a commissioned musical composition in his honor in mid June. Many moving parts came together to arrive at "Un Pasto con Luciana e Mario" ("A Meal with Luciana and Mario") inspired by the Italian love of food in three movements: Primo, Secondo e Dolce (First course, main and dessert).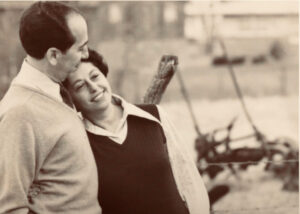 Mario grew up in Naples, exposed to music starting at age 6 when his mother Luciana sang "La Boheme" and "Madame Butterfly" operas around the house. Music continued to surround the family as Mario's uncle Enrico Leide, a cellist and the first conductor of the Atlanta Symphony Orchestra from 1920 to 1930. Mario's Sephardic maternal grandfather Lazzaro Leide was the head rabbi of Naples, circa 1906, and he traveled around Sicily, Senigallia, and southern Italy performing Jewish ceremonies.
Mario said, "I myself do not play an instrument, but I am musically educated. I found the birthday concert moving and was pleased to have this honor late in life but had to reach to 100 get it!"
Three years ago Robert and Honora Foah commissioned Maestro Lucas Richman to write a piece in honor of Mario and his late wife Luciano, Robert's mother. It is a double concerto for violin and cello soloists, plus orchestra.
Robert stated, "COVID put a damper on all activities, but three years ago Honora and I went to Italy for three weeks to introduce Lucas to the two families – mom's side and dad's side. Mom from Rome, dad from Naples.
"Lucas is a world-renowned conductor and composer and studied with Leonard Bernstein for 12 years. He is also my dear friend and mentor." Grammy Award winning (and Jewish), Richman is now conductor of the Bangor (Maine) Symphony Orchestra, has performed in Jerusalem, served for many years as conductor of the Knoxville (Tenn.) Symphony Orchestra, and created several well-known movie musical scores.
Lucas, after visiting the Foah family abroad, decided that since the Italian culture revolves around the kitchen table, he entitled the piece after meal courses.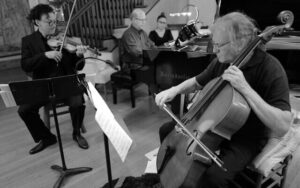 Since they could not yet gather an orchestra because of COVID, he wrote a piano reduction of the orchestral score that can be played as a trio for violin, cello and piano. The orchestra version should premiere next year. Robert elaborated, "Lucas was eager for Mario to hear the piece, especially as we are all coming out of quarantine. Honora and I organized a gathering at our house. The first two days were rehearsals; the third day was a private performance for eight people plus dad, and the fourth day was a recording session."
Mario said, "I so much enjoyed the event and was honored to have meaningful old friends like Yoel Levi, former ASO director, and Dr. Benedict Benigno, world renown physician, present."
Honora Foah is a multimedia artist. She is currently developing a cycle of seven Frequency Operas entitled Recombinant DNA, which explore different frequency spectra through two lenses – science and myth.
Dahlan Robert Foah is the president of Visioneering International, Inc. He has combined his talents in music and the visual arts emerging technologies to become one of the founding members of the audiovisual/multimedia industry. As a principal audiovisual consultant to the United Nations, Foah brought a powerful artistic sensibility combined with financial management skills to exhibitions, visitors' centers and World's Fair pavilions as well as productions and installations for corporate clients. He began his working partnership with Honora in 1989.
In terms of secrets to longevity, Mario is happy to share wisdom. He came from a family of five sons. Now the four (ages 88, 90 and 93) remaining brothers talk every day from Rome, Naples, Milan and Atlanta.
Mario ran an Italian food import business on which he still keeps a pulse, but recently turned over operations to his younger son. Mario shared his secrets to aging well. "I take very few medications, mostly a few vitamins. I never snack. I eat three meals a day in small portions. Of course, we have longevity genes, but my diet is low in meat, mostly fresh fruits and vegetables and pasta. I have a little wine when company is over. I only enjoy red wine from Italy and never drink by myself!"